ELLEN M. MOWRY,
MD, MRC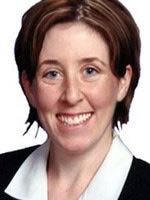 Titles
Assistant Professor of Neurology
Locations
The Johns Hopkins Hospital
600 N. Wolfe Street
Pathology 627 (mailing address)
Baltimore, MD 21287
E
vitamindtrialms@jhmi.edu
Expertise
Multiple Sclerosis, Neurology
Research Interests
The role of vitamin D in MS
Biography
Dr. Mowry became interested in multiple sclerosis (MS) prior to beginning college and first performed research in multiple sclerosis as an undergraduate biology major at Georgetown University. As a neurology resident at the University of Pennsylvania, she began her multiple sclerosis clinical research activities in conducting a study of visual dysfunction and quality of life in multiple sclerosis. As a fellow at UCSF, Dr. Mowry evaluated prognostic factors in multiple sclerosis and examined health-related quality of life in multiple sclerosis, particularly as a marker of disease burden. Dr. Mowry continued as a member of the faculty. She explored the association of vitamin D status with the risk of relapses among children with MS and was subsequently awarded a grant from the NIH to study the role of vitamin D in the course of MS.
Dr. Mowry joined the Johns Hopkins Department of Neurology as an Assistant Professor in July, 2011. In addition to ongoing studies, she is launching a multicenter randomized controlled trial of vitamin D supplementation in MS.
Publications
PubMed: Mowry EM
Clinical trial

Clinical trial

Vitamin D Supplementation in Multiple Sclerosis
ClinicalTrials.gov Identifier:
NCT01490502
Study Completion Date: Dec 2016
Page last edited: October 26, 2014
Terms of Use